Tools I am Using or Have Used to Fight Gum Disease -
refer to the book for more information
Aside from regular flossing and brushing, which must not be neglected, the tools that I believe have helped me combat gingivitis / gum disease are as follows:
The Hydro Floss or HydroFloss: I continue to use the Hydro Floss daily and I intend to continue using it for the long term.
The oxygenated oral rinse can also be found in this gum care starter kit.
This toothpaste has pyrophosphates as well as ubiquinone (also known as co-enzyme Q-10) . The pyrophosphates may help in preventing the build up of plaque..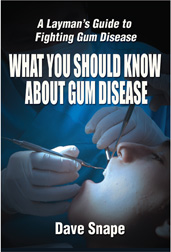 More information about Fighting Gum Disease is available in my book: What You Should Know about Gum Disease -
Your Free Five-Page Report entitled: Fighting Gum Disease awaits
You can sign up for your free 5 page report on gum disease and future updates and information. Your email address will be respected and kept confidential. Just fill out the form below: :
This site is not meant to provide dental / medical advice. If you have or think you have gum disease, visit your dentist or doctor for diagnosis, advice, prevention and treatment.
Copyright 2007 by Gingivitiskiller.com - All Rights Reserved World Wide (do not copy for any reason).

Now you can watch with a certain satisfaction as your dentist and hygienist become incredulous at YOUR results.
You Can Stop Gum Disease / Gingivitis Now!
The statements about products on this site have not been evaluated by this site nor by the United States Food and Drug Administration. Check with your dentist if you have or think you might have gum disease.
Affiliates - Contact - Articles - News / Updates - Products - Blog - Gum Disease Book